Compare Cheap Fares To Pakistan
Browse the latest fares and ticket prices for cheap flights to pakistan below table shows prices for the most popular pakistan flights on PIA, Emirates, Qatar, Etihad and other popular airlines flying from the following airports: Manchester, Birmingham, London Heathrow and Gatwick, Newcastle, Glasgow and Edinburgh. If you require a flight from any other airport please contact the office directly. For the latest ticket prices to Pakistan please call Mushtaq Travel direct on 01332 361650, we are ticket agents for all major airlines including Gulf, Kuwait, Saudi, Air blue and many others.
For Cheap flights to Pakistan book in advance for the best fares remember "the early you book the cheaper you fly" We are a specialist travel agent for flights to pakistan and the the indian sub continent, if you require any specialist round the world flight, please do not hesitate to contact us and we will be happy to help. Remember we are a ticketing agent we can arrange any type of flight for you whether its from London to Pakistan to Singapore to Hongkong and return.
Customers can expect great fares and a diverse range of options when planning to travel to pakistan, the choice for travelers has never been greater with more than 10 International airlines offering flight routes from the UK to all over Pakistan airports including Islamabad, Lahore, Karachi and Peshawar, Currently PIA is the only airline to offer a greater choice for people looking to travel into some of pakistan's regional airports such as multan, hyderabad, sialkot, Bahawalpur and many others spread across pakistan's north west and punjab areas.
Customers that require a personal service with a more complex flight itienrary requirements can contact a specialist travel advisor to ensure they are getting the best option and flight itinerary, most customers require multiple destinations as part of their trip to pakistan and therefore look to obtain and source a proffesional travel agency with expertise in the travel industry and a reputation that can be verified by independent sources, Mushtaq Travel are always working hard to achieve top levels of customer satisfaction and improving service to its customers by liasing closely with its airline and travel industry partners.
There are now more flights to pakistan than ever before and with such an influx of migration into the UK the demand has never been so high, therefore we recommend people to book in advance to obtain the best fare for their intended travel dates, especially if you are traveling during the peak seasons.
Mushtaq Travel offers all customers travelling to anywhere in pakistan the widest choice and selection of airlines to choose from with special offers directly negotiated with all airline companies worldwide, there is no particluar season where special offer rates are made available, this being said normally during off peak seasons you will find most airlines such as PIA, Turkish, Emirates, Etihad, Qatar will offer extra discounted rates. Always check with a travel agent for offline rates and group discounts as prices can vary depending on your booking and travelling dates.
Tip.. For economy flights to pakistan always book in advance for the best rates especially during peak seasons..
Book your pia flights to pakistan on all airlines from Birmingham, Manchester, London Heathrow To all over Islamabad, Lahore, Karachi, Multan and many other airports within Pakistan. Call our expert reservations staff on 01332 361650 today for a no obligation quote.
Cheapest Pakistan Flights
Airlines That Fly To Pakistan
Currently the following airlines have direct and indirect flights into Pakistan from the UK
PIA - Pakistan Int Airlines (IATA Code: PK) Headoffice: Karachi
Emirates Airlines (IATA Code: EK) Headoffice: UAE Dubai
Etihad Airways (IATA Code: EY) Headoffice: UAE Abu Dhabi
Qatar Airways (IATA Code: QR) Headoffice: Doha Qatar
Turkish Airlines (IATA Code: TK) Headoffice: Istanbul Turkey
Kuwait Airways (IATA Code: KU) Headoffice: Kuwait City Kuwait
Oman Air (IATA Code: WY) Headoffice: Oman Muscat
Saudi Arabian Airlines (IATA Code: SV) Headoffice: Riyadh Saudi Arabia
Most of the airlines listed above fly from most major UK airports except for Oman Air and Kuwait Airways that fly from London Heathrow only, since 2013 saudi arabian airlines have started operating flights from Manchester Airport.
Location of Pakistan
The country of Pakistan is located in South Asia/ Indian Sub Continent between Afghanistan and India with borders in the south west of the country next to Iran. In the south, it borders the Arabian Sea and to the north It also shares a (325-mile) border with China. with a coastline of 650 miles) and stretches north to the great Hindukush and Karakoram mountain ranges, with peaks as high as the Nanga Parbat (8,126 meters) and the K2 (second highest mountain in the world) (8,611 meters).
Attractions in Pakistan
Shah Faisal Mosque (6th Largest in the world): Islamabad
Lahore Fort: Lahore
Pakistan Monument Museum: Islamabad
Mohatta Palace: Karachi
Baltit Fort: Gilgit
Lake Saiful Muluk: Kaghan Valley near Naran
Lahore Zoo: Lahore
Peshawar Museum: Peshawar, Khyber Pakhtunkhwa
Pakistan Flights
With an increasing number of flights departing for Pakistan everyday from almost all UK and European airports it is now easier to find cheaper airfares than over a decade ago, with the staggering growth of the UAE and Middle Eastern airlines Pakistan has one of the largest numbers of air traffic passengers flying out of the main UK airports i.e. London, Birmingham, Manchester now with an increased frequency from Newcastle, Edinburgh and Glasgow airports. There are a number of airlines offering short stay connections with onward flights to Pakistan's international airports.
Where to stay in Pakistan
When arriving into any of Pakistan's main airports you will find the quickest and cost effective way to get around is by private Taxi, depending on which city of Pakistan you arrive or visiting you are sure to find private villa's and houses to rent including budget and luxury hotels. Pakistan's largest cities offer a variety of accomodation from independent to well known hotel brands.
The following hotels are the most popular among western travellers
Marriott Hotels - Located in Islamabad and Karachi
Pearl Continental - Located in Rawalpindi
Serena Hotels - Located in Lahore
Bhurban Hill Aprtments - Located in Islamabad
Serai Boutique Hotel
Best Western Hotel
Crown Plaza
Margala Hotel
Pakistan Essentials
Car hire is available at most international and domestic airports
Europcar available at all international airports
Avis Rent a car available at Islamabad, Lahore and Karachi airports
Various non franchise car hire companies located within cities of Pakistan
Money Echange is available at various locations within Pakistan
Local cuisines and can be found all over Pakistan's rural areas
Local currency of Pakistan is the Pak Rupee (PKR) - Euro's, Pound Sterling and US Dollars are easily exchanged
Traditional Pakistani
Italian Cuisine
Chinese Food
Thai Food
Afghan Food
How to book tickets to Pakistan?
Seach and compare for the latest fares to Pakistan using our state of the art online search facility. We deal with over 100 airlines including PIA the most popular flight for Pakistan followed by some of the world's most renowned airlines: Emirates airlines, Etihad airways, Qatar airways, kuwait, Turkish airlines and many others. There are daily
flights to pakistan
with most flying directly to all major airports of Pakistan both direct and indirect flight options are accesible via our flights booking engine. Whilst Islamabad is one of the most popular destinations to Pakistan, we can assure you that you are most likely to find yourself the best deal to any city of Pakistan by booking directly with us whether you use chose to book online or call our travel experts today.
Why book flights to Pakistan with us
We have the best prices for all airlines
Most of the tickets are fully refundable
Most ticket types are flexible
Payment by card is accepted for all tickets
Third party Payments are accepted
We can arrange for Special assistance
Excellent advice and highly knowledgeable staff.
View photos of Pakistan's natural sights with electic views and scenic beauty
Pakistan is known to have some of the most exhilarating and scenic views in the world
Saiful Muluk, Khagan Valley - Near Naran Pakistan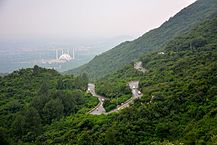 View from Margalla Hills and Faisal Mosque - Pakistan
Baltit Fort, Hunza Valley Gilgit Pakistan